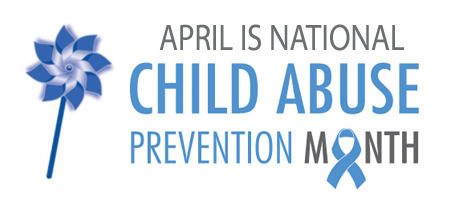 As we know, CASA volunteers and staff statewide work hard to provide services to child victims of abuse and neglect. But what if our services were never needed?
Child Abuse Prevention Month history
Since 1983, April has been designated National Child Abuse Prevention Month.
"The first federal piece of legislation to protect children from abuse and neglect, the Child Abuse Prevention and Treatment Act (CAPTA), was passed in 1974," writes the Joyful Heart Foundation on their Child Abuse Awareness and Prevention Month webpage.
Child Abuse Week was designated in 1982, and later expanded into an entire month.
"Since those early days, the focus on recognition and prevention has widened to include promoting healthy parenting and strong families through education and community support," continues the Joyful Heart Foundation.
How any adult can help
Today, according to Prevent Child Abuse America, most adults would go out of their way to help a child, but many aren't sure what they can do to help.
"While 87% of adults across America believe that child abuse and neglect is a preventable problem, most don't know how they can help," reports Prevent Child Abuse America's Child Abuse Prevention Month 2018 Chapter Toolkit. "In fact, only one in four reported that they engage in child abuse prevention, when nearly 3x as many actually had in practice."
Actions everyday folks can take to work toward preventing child abuse and neglect are simple. Adults can mentor a child or parent, donate time or money to child-serving organizations, or advocate for policies that support children and families.
Prevent Child Abuse also coordinates the Pinwheels for Prevention project.
"A Pinwheel Garden is a grouping of at least 25 Prevent Child Abuse Wyoming Pinwheels displayed outside or inside your place of business, your home, or your office where the others can witness your effort and support of early prevention," says the says the Prevent Child Abuse Wyoming 2018 Pinwheel Garden Project. "We also have lawn signs available that will help to inform others why you have planted the pinwheels."
Individuals or groups can also order pinwheels from the Prevent Child Abuse Wyoming website.
How CASA staff, volunteer, board members and supports can help
As a CASA staff person, volunteer, board member, or supporter, we also encourage you to wear blue on Friday, April 6, to "to make a visible commitment to preventing child abuse and helping make great childhoods happen."
Thank you to our staff members and volunteers who help victims of child abuse and neglect every day. Your efforts do not go unnoticed.
Links
http://joyfulheartfoundation.org/programs/education-awareness/community-engagement/child-abuse-awareness-and-prevention-month
http://preventchildabuse.org/wp-content/uploads/2017/11/CAPM-Toolkit-Guidebook-2018-FINAL.pdf
http://pcawy.org/pinwheels-for-prevention/